LOADING ... PLEASE WAIT
Copy and paste this URL into your email, texts, social media post, etc. to share it!
NSI
NEWS
NORTH SHORE INSIGHTS
To Share - Copy below Url link into text-e-mail-and social media
NSI eBIZ CARD /GCC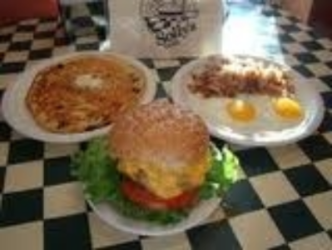 Solly's Grille
Glendale WI
4629 N. Port Washington Road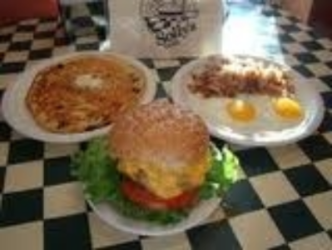 WHO WE ARE - WHAT WE DO
The original Butterburger, homemade pies, quality sandwiches, malts, fresh salads, fish fry. Great Farmfresh Breakfasts, Lunch and Dinner. Also vegetarian / gluten-free options.
THE ORIGINAL BUTTER BURGER
SOLLY'S GRILLE
FAMILY OWNED & OPERATED
SINCE 1936
Voted "BestBurger in Wisconsin" and one of the
"Best Burgers in America"
Solly's Grille, established in 1936 as Solly's Coffee Shop by Kenneth "Solly" Salmon, still remains a family-owned and operated restaurant today. For over 83 years, Solly's famous signature butter burgers have been a staple for locals in the Milwaukee, WI area.

We use high quality 100% sirloin beef (no fillers) delivered FRESH daily from a local butcher. We use only REAL Wisconsin creamery butter. Our French fries, onion rings and hand-breaded Alaskan Cod are made using only cholesterol-free frying oil.

We proudly serve our homemade cherry pies and cherry shakes and malts made with Wisconsin DC Cherries. Take a walk down Memory Lane and try a real ice cream shake or malt served up the old-fashioned way in a steel can.

Our Chocolate Banana Malts and Hot Fudge DC Cherry Shakes are house favorites!

Solly's serves a great farmstyle breakfast as well. Pancakes, buttery hash browns, and omelets are just a sample from our crowd-pleasing breakfast menu.

Supportive Member
NSI North Shore Insights / GCC North Shore Chamber
TO CLOSE ABOVE
Show or
PRINT OUT
and Present
TO CLOSE ABOVE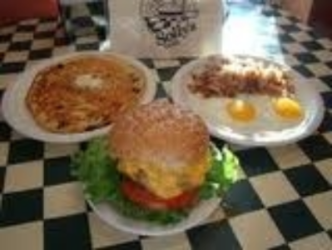 Solly's Grille
Glendale
4629 N. Port Washington Road
TO CLOSE ABOVE