LOADING ... PLEASE WAIT
Copy and paste this URL into your email, texts, social media post, etc. to share it!
Stan's Fit For Your Feet
NSI eBIZ CARD & EVENT
NSI
NEWS
NORTH SHORE INSIGHTS
Copy and paste this URL into your email, texts, social media post, etc. to share it!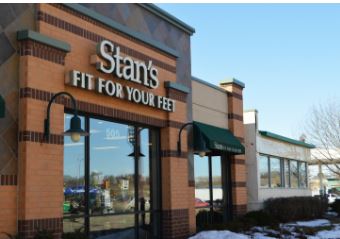 WHO WE ARE - WHAT WE DO
Quality Footwear - Men & Women
About Stan's
Our family has been stepping up the shoe fashion and comfort game in Milwaukee since 1950! It's no secret that our feet take a beating with every step, dance, run, hike, or jog. We're here to be your personal Fit Specialist to get you the best fitting (and best looking) shoes!
Stan and Emerence Sajdak, established the roots of Milwaukee's#1 Shoe Store when they opened Stan's Bootery on. 27th Street and Oklahoma Avenue.
Stan's has now expanded to three Wisconsin storesin Brookfield, Greenfield, Glendale,and online at Stansfootwear.com. In addition to Stan's, the Sajdak family also owns
New Balance Milwaukee in Brookfield and Greenfield, Wisconsin.
Reasons to Shop




Local With Us:
Shop with your personal Stan's Fit Specialist to get the best fit!
(We measure your feet each time you come in!)
Experience old school service with modern style and technology!
We travel the world to bring the
BEST Shoes and styles to you!

We have fashion forward styles that
won't hurt your feet!
We specialize in all different sizes and widths
to combine fashion, comfort and fit.
We're a family!(literally for 4 generations and we consider each employee as family)
We have shoes for everyone to Run, Walk,
Dance, Skip, Hike, Jog every step of life!
We're your Shoe People and will
continue to be for generations.

We have award-winning customer service! Stan's has been honored to receive local and national recognition:
Named Milwaukee's BestShoe Store by Milwaukee A-List since 2007.
National Shoe Retailer of the Year by NationalShoe Retailers Association in 2013.
Milwaukee's Best Shoe Store by Shepherd Express in 2014 & 2017.
Southeastern Wisconsin's Top 10Businesses of the Year, Waukesha CountyBusiness Alliance. 2014
Wisconsin's Family Business, "Sole of the Family" award by Smith& Gesteland, First Bank Business Bank, and Whyte, Hirschboeck, Dudek LawFirm. 2015
Business of the Year, BrookfieldChamber of Commerce. 2017
Best ofGreater Milwaukee, MKE Lifestyle Magazine. 2018
Our third generation family business is "Milwaukee proud"and likes to support the
local
community.

Supportive Member
NSI North Shore Insights / GCC North Shore Chamber